Vision
Loving our neighbors and helping them to find God, love God, and share God.
Values
Scripture – The Holy Bible is the word of God and it is trustworthy and true, providing us with a reliable guide for direction, teaching, correction, and equipping us for the work of ministry (2 Timothy 3:16).
Prayer – God is actively involved in the world today and he loves to hear the thoughts, needs, and desires of his children. We seek to be under God's authority and so we pray in thanksgiving, making our requests known to him and seeking his direction in the way we should go (Matthew 7:7-11, Philippians 4:6).
Community – The Church is the Body of Christ and God desires for us to develop deep relationships for fellowship, encouragement, support, accountability, and mission (Proverbs 27:17, 1 Corinthians 12).
Lively Faith – Our faith in Christ is meant to be lived and it should transform every aspect of our lives. We seek to always be growing and maturing in the grace and love of Jesus Christ (Ephesians 4:13-15).
Anglican Identity – Anglicanism isn't the only way to follow Jesus, but it is a reliable way of being a Christian. We look to our Anglican heritage as our guide for doctrine, discipline, and worship. We rejoice that just as we are in relationship with one another, we are also in relationship with other Anglicans throughout our diocese, province, and the world.
Stewardship – Everything belongs to God, and he has made us stewards, or managers, over a portion of what is his. We manage our resources carefully, both as individuals and as a congregation, knowing that we are accountable to God for the way we handle our time, our talents, and our money. God's resources are to be used generously for the building up of his kingdom (Psalm 50:10-12, 2 Corinthians 9:7).
Family – The Church is the family of God and it is made up of many families, each of which is a little church. The family is intended to be the first place we encounter God, and we view parents as the primary disciplers of their children. We encourage regular worship, prayer, and the study of the Scriptures in our homes (Deuteronomy 6:4-9, 1 John 3:1).
Outreach – As Christians, we are ambassadors for Christ among our families, friends, neighbors, and co-workers. It is our responsibility and privilege to be laborers in the Lord's harvest, introducing people to God, drawing them into the fellowship of the Church, and equipping them to reach Christian maturity and share their faith with others (2 Corinthians 5:20, Luke 10:2).
Name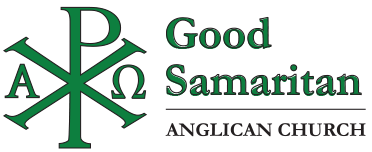 The name "Good Samaritan Anglican Church" is taken from Jesus' parable of the Good Samaritan which can be found in the Gospel of Luke (10:25-37). In the Old Testament Law, there was a commandment that said "You shall love your neighbor as yourself" (Leviticus 19:18). Jesus told the Parable of the Good Samaritan in response to a man who asked "who is my neighbor," essentially he was asking who he was obligated to love. The point of the parable is that our neighbor is everyone around us. The use of this parable in our name is a reminder that God has placed us in this community to love and bless our neighbors as an extension of God's love for us. "We love because he first loved us" (1 John 4:19).
For more about what it means to be an "Anglican Church" click here.
Logo
We use the ancient "Chi Rho" symbol as the official logo of our church. Chi (looks like an "X" and sounds like a "C") and Rho (looks like a "P" and sounds like an "R") are the two Greek letters at the beginning of the word "Christos" or Christ. It is a clear statement that this is a "Christ-centered" congregation. In this version of the symbol, we have also incorporated two other Greek letters, Alpha and Omega, which are the first and last letters of the Greek alphabet. These letters are used in the Book of Revelation where it says: ""I am the Alpha and the Omega," says the Lord God, "who is and who was and who is to come, the Almighty"" (Revelation 1:8, ESV). This is a reminder that everything, all of creation, begins and ends with Christ.